SILVER MOON EA – Forex Mt4 Expert Advisor
---
You will be able to download the product once the payment is completed (instant)
This robot is one of the biggest beasts of the Eas at the moment.
SILVER MOON EA  can trade any pair, but we have obtained beastly results on GBPUSD, only on TF M30.
This robot is NOT FOR BEGINNERS, it´s a high risk robot and should only be traded by traders who understand the level of risk.
BROKER: FBS – REAL ECN ACCOUNT – LEVERAGE 1:500
GBPUSD M30

HIGH

 RISK :  99.90% MODELLING QUALITY
ACCOUNT STARTS WITH                                           $3.000
ACCOUNT ENDS WITH                     $11.140
+ 271% NET PROFIT
DD 39.37%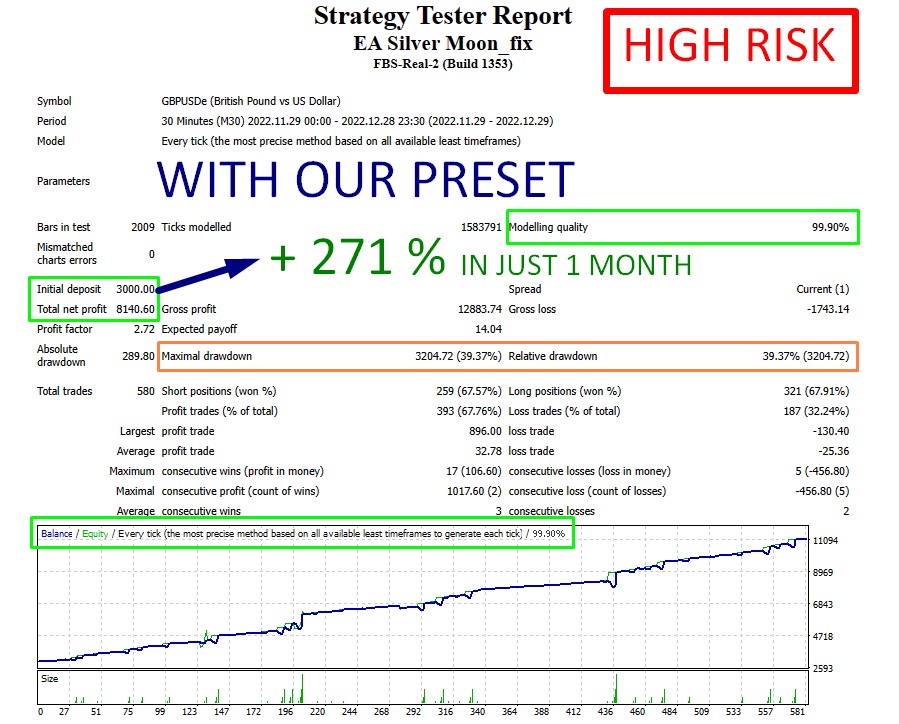 Let's see some trades (not all of them, because it made more than 1890 trades in a month):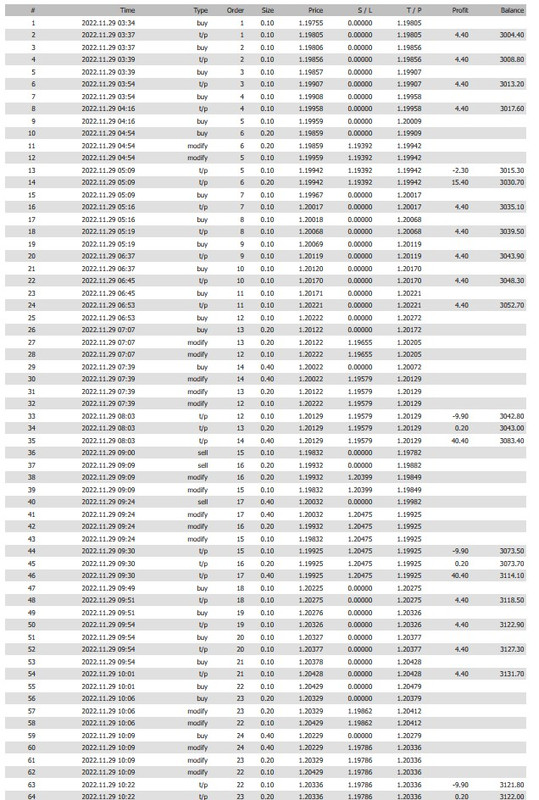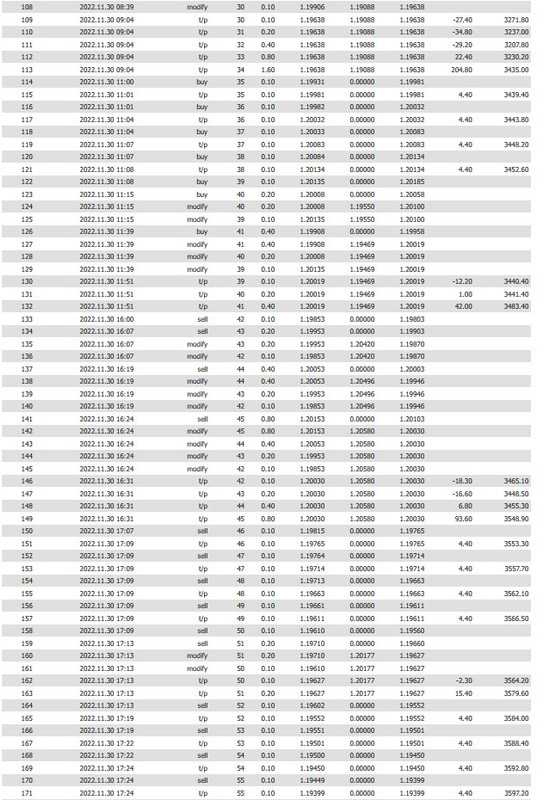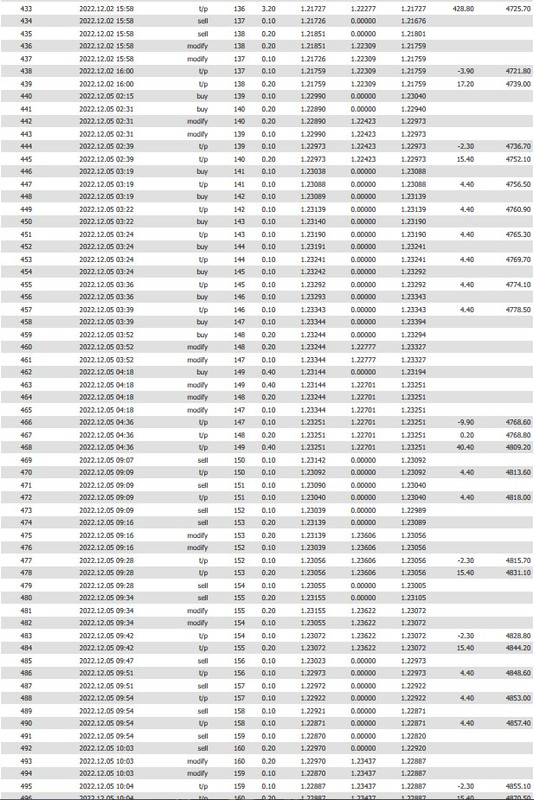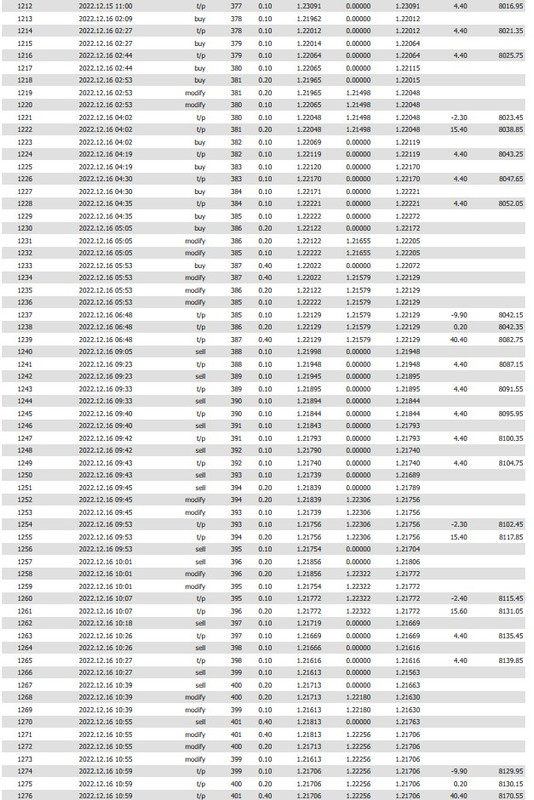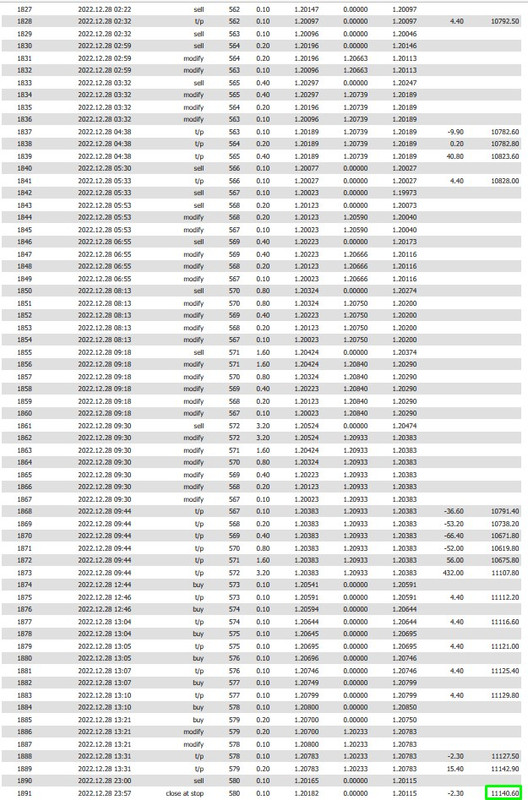 Please see trades: 1868-1873: 
As you may have noticed in the movements, the EA always finds a way to mitigate losses, increasing lots with a few pips on opposite trades (then, it quickly makes a lot of money and closes 3 or 4 trades with a smaller loss, and 1 with a higher profit, that is why it requires more capital than other EAs, but it is very, very difficult to lose!
This is something it always does, part of the EA's own strategy (when it has opened trades and these go against it, of course!)
Important recommendations for this EA:
If you are a new user of mt4 platform, or you are an inexperienced trader, please do not use this EA.

If you have no idea how to test an Ea, and you just "backtest" it without knowing how to perform a real backtest (it should always be 99.90%), do not use this EA. A backtest is not just loading an EA in the mt4 tester.

This is a complex EA, ULTRA HYPER PROFITABLE, but it carries its risks, that's why it is for traders who master the mt4 platform, who are used to making quick profit withdrawals from their broker.
Conditions:
Technical specifications such as: account type, leverage and minimum money in account, must be the SAME as the ones you have in your broker. If any of these are different, the results may not be as desired.

Your broker should allow you to withdraw profits quickly, as we recommend that once you have made a profit you IMMEDIATELY WITHDRAW THE MONEY from the account.

But why is this? This EA is a beast, the bigger the capital, the bigger the lots it will shoot and maybe you will find yourself managing more money than you really want to trade. 39% of 3,000 is not the same as 39% of 11,000.

DON'T BE GREEDY, WITHDRAW THE PROFITS: once you have taken out the same capital you invested, you can start to invest more capital (since it would all come out of your own profit).

Make partial profit cuts: for example, withdraw every 1500 or 1000 or whatever you prefer, just let the EA run like the beast it is, after having withdrawn as profit at least the same money you first deposited in your account, even so, keep in mind that the money you are risking is also your earned profit!

Please do not touch or modify anything in the preset we send you, if you are a trader who likes to do some research, please use demo account. In all EAs but in this one in particular, we recommend to test it first on DEMO, you need to get used to the EA handling.

DO NOT TRADE MANUALLY ON GBPUSD: This EA is sensitive to other EAs or trades, you should not trade in any way (manual or automatic) on GBPUSD.

DO NOT MODIFY THE ORDERS IN THE EA: if you modify an order, the Expert Advisor will behave erratically, or have undesired behavior.

DO NOT CLOSE MANUALLY TRADES IN THE EA: in order to close any trade (manually), you must first deactivate the EA.
Configuration Panel:
YOU DON´T NEED TO MAKE COMPLEX CONFIGURATIONS!

WE HAVE ALREADY FULLY CONFIGURED IT!

YOU ONLY HAVE TO LOAD OUR PRESET INCLUDED.
Recomendations:
Broker: You should have a Scalping broker with 0 Spread or very low Spread, or one that pays per lot traded and has no Spread. If you have a broker and you do not know its Spread, you should find it out beforehand. IF YOUR SPREAD IS HIGH THE EA WILL NOT OPEN TRADES.

VPS: Not Required – But if you want, use a VPS or a hosting server with minimum network latency with respect to the broker's server -It is always good to use the VPS recommended by your broker as they will work well with each other.