QuickFire Pro EA by BINARYFOREXEA
Forex MT4 Expert Advisor
PLATFORM:

MT4.




PAIR:

EURUSD




TF:

  H1:

The EA will use a 5-minute time frame as an entry trigger. However, you must have the 1-hour time frame shown on the chart.




MIN DEPOSIT:

 

$100 IN CENT ACCOUNT ONLY (NO STANDARD ACCOUNT)  /

You should purchase the signal that corresponds with the amount you want to deposit into your trading account




EA TYPE:

SCALPER


LEVERAGE:

1:500


IMPORTANT:

YOU NEED A BROKER WITH REAL LOW SPREAD – less than 2- (SCALPING) or ECN but

in this particular EA, accounts with 0 spread (those that charge a commission per trade) are not recommended. (Roboforex-XM)
INSTANT DELIVERY


Trading involves more than just indicators that tell us when to buy or sell. It's a complex process influenced by three key factors: emotional, strategy, and capital management.
The emotional factor in trading refers to the influence of emotions such as fear and greed on the trader's decision-making process. Fear can cause the trader to miss opportunities or close positions too early, while greed can lead to impulsive or overly optimistic decisions.
The strategy involves using the right indicators and knowing how to use them, traders must be disciplined and patient, sticking to the strategy even during periods of market volatility or when it's tempting to make changes.
But the most important factor is having a capital management strategy that prioritizes making money over winning trades.
Even with a 90% success rate, you can still lose money if your take profit (TP) and stop loss (SL) levels are not set appropriately.


The signals will be a one-time payment with a limit of up to 4 simultaneous accounts per each signal. If used on more than 4 accounts, the account will be blocked, and the purchase must be made again without exception. Similarly, the EA will stop working if a refund or cancellation of payment is requested.
So, let´s start with the EA:
This is what you will see in the EA configuration: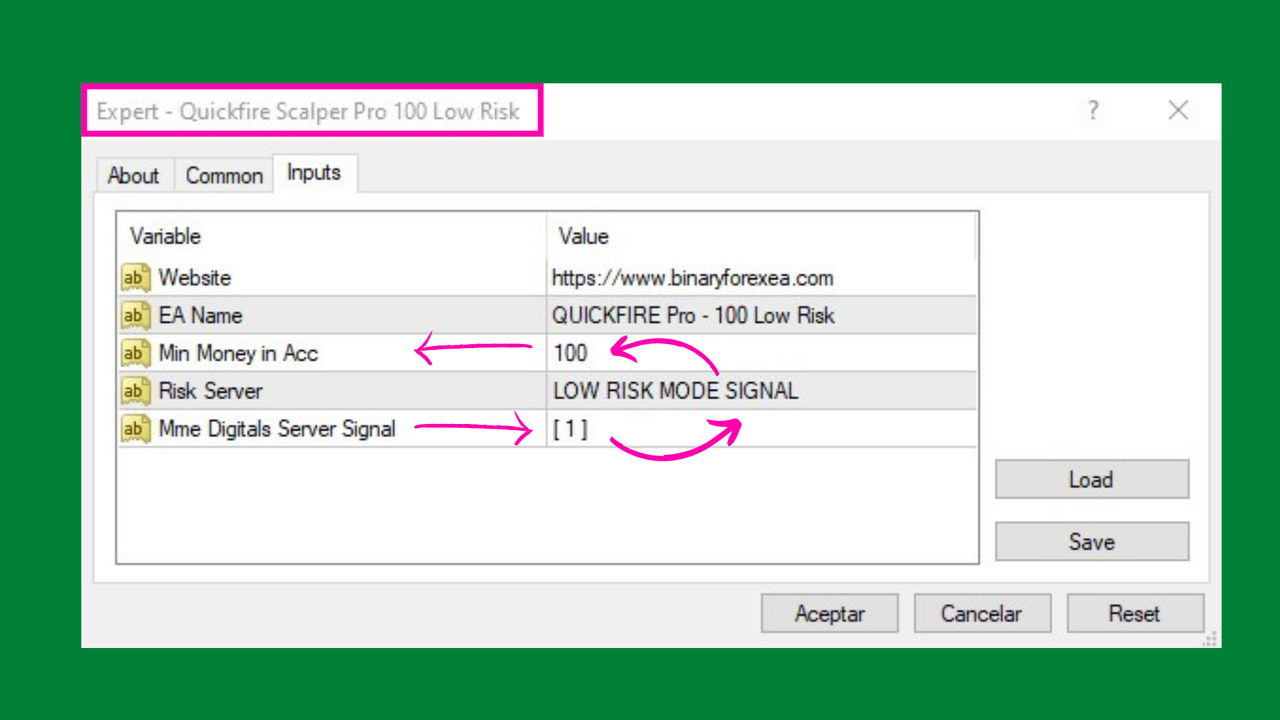 In the EA configuration (input tab), you will only see the server and signal type, but you will not have the ability to make any changes. The signal will be generated automatically as a "buy-sell signal" in expert mode, and you will not be able to modify its settings.
Each signal type will have a different server and this cannot be changed after purchase. Please check carefully before purchasing if the signal type is suitable for your chosen capital and risk.
Important Considerations for this EA:
The broker and account type are key factors. We will demonstrate examples of the same signal in different brokers and account types. The maximum spread tolerated is 2 pips. You can choose any broker that consistently offers less than 2 pips on the EURUSD pair.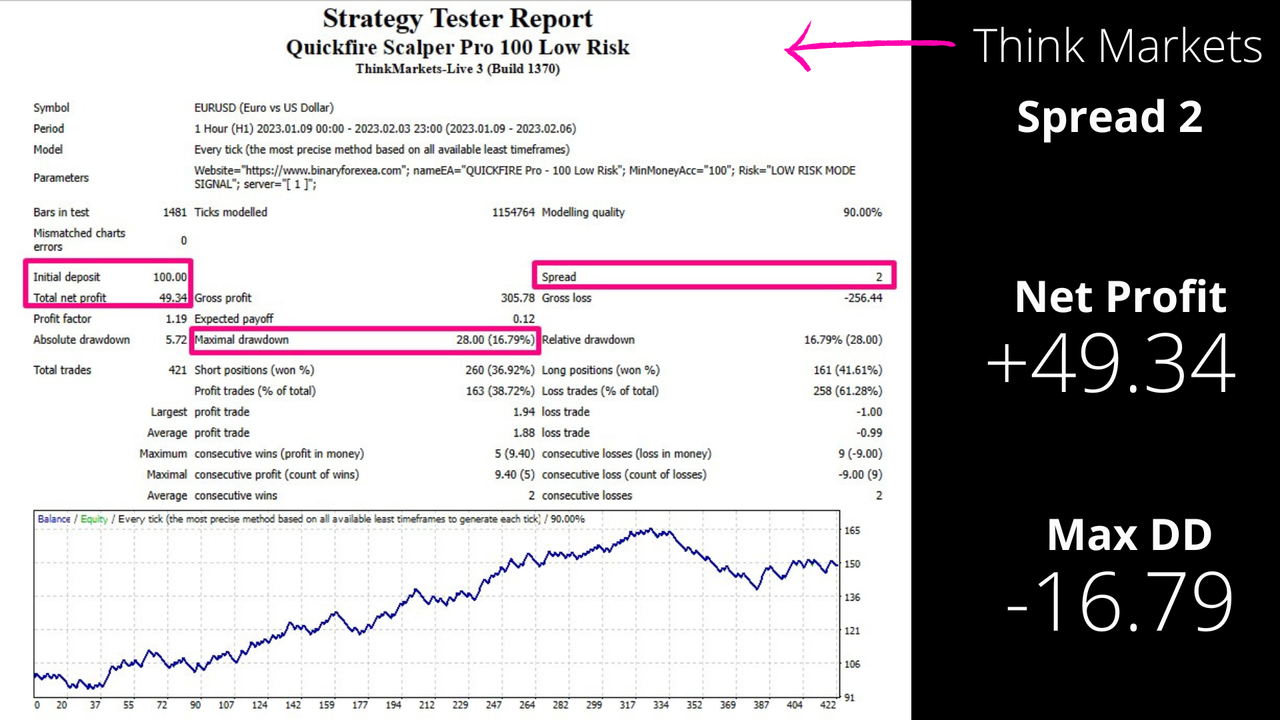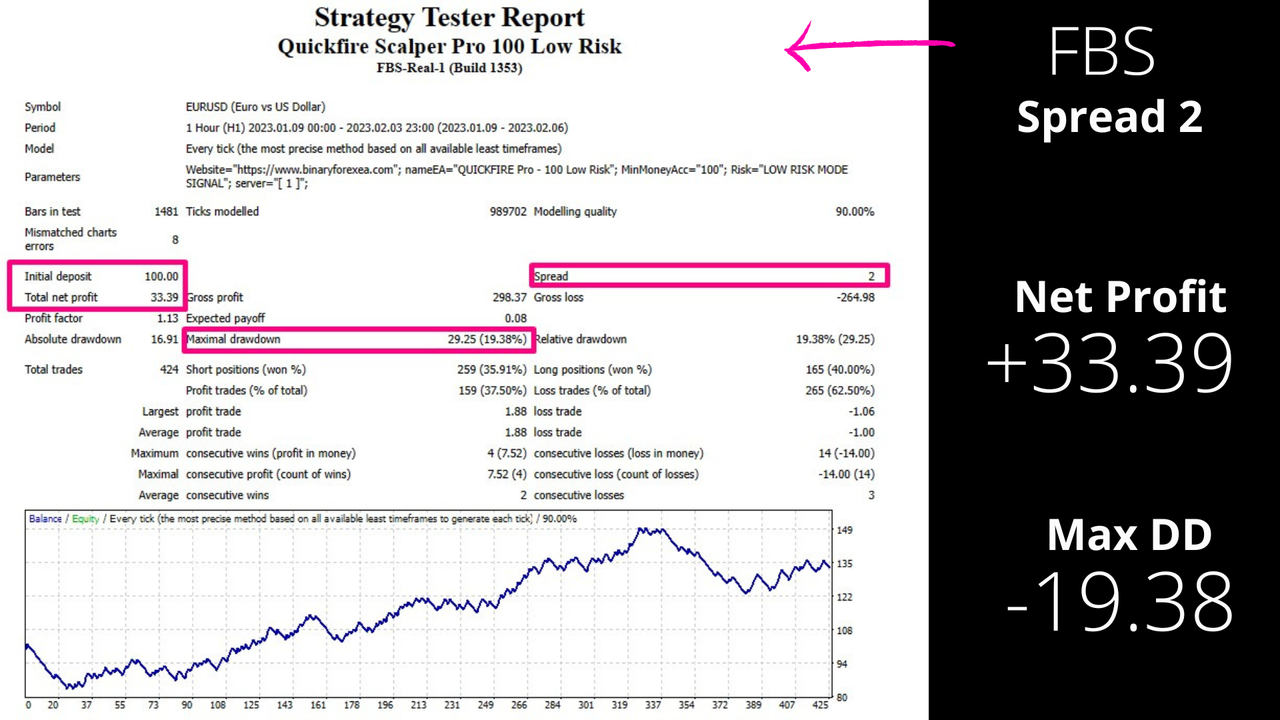 In these three examples, it's evident that the performance of one of the brokers is significantly better compared to the other two. However, not all brokers can consistently provide less than 2 pips. This is why both Roboforex and XM are popular choices.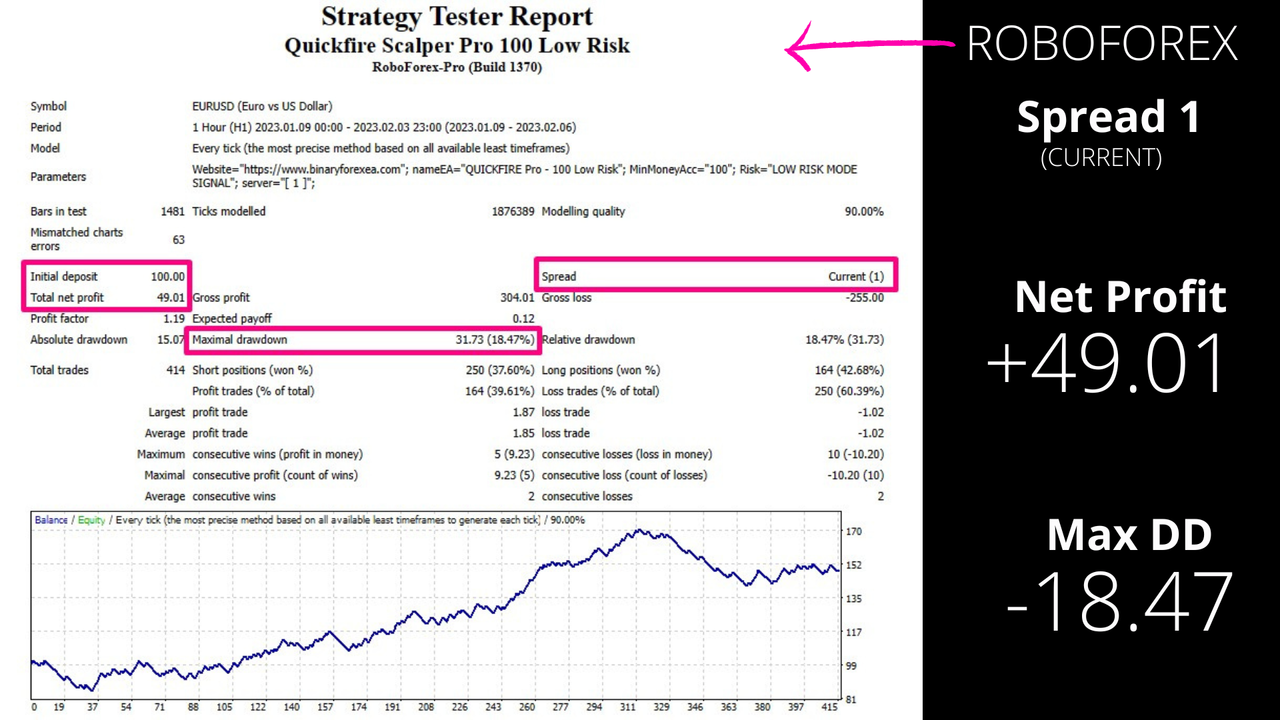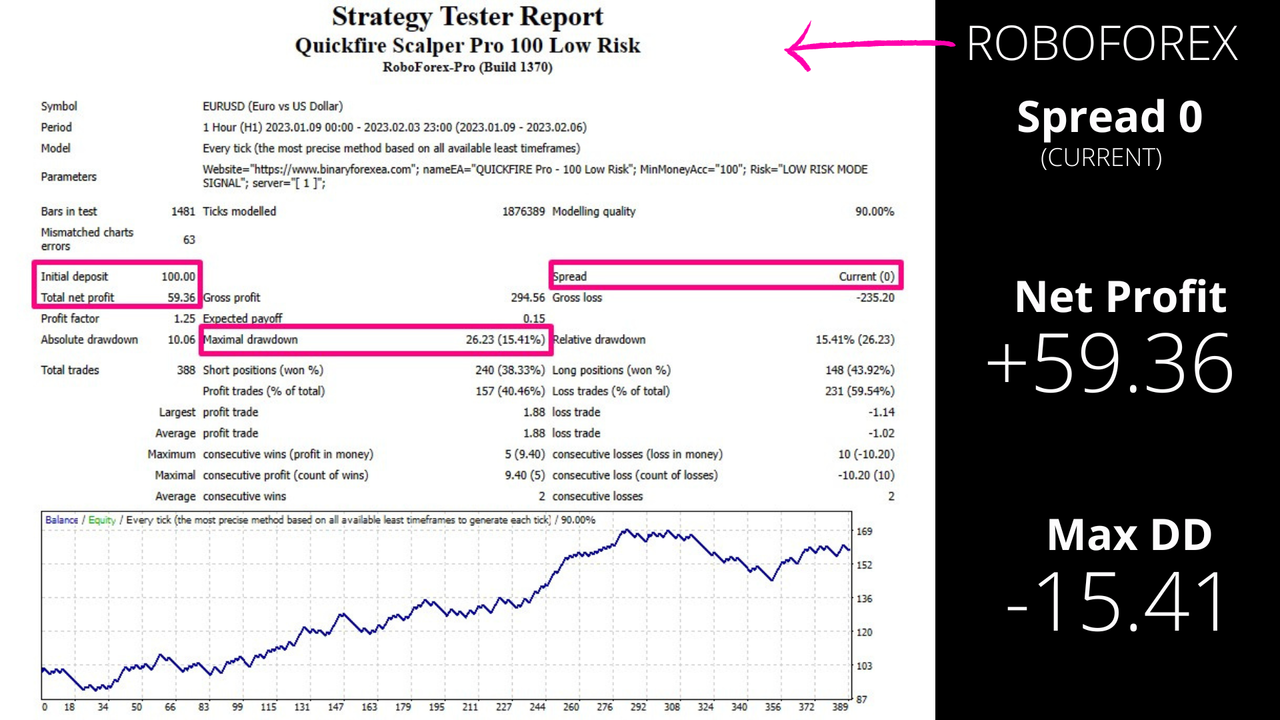 How is this possible?
We've thought about how many people want to trade but don't dare to because of fear:
QuickFire Scalper Pro EA does not employ any of these dangerous methods: Martingale, Hedging – Gridding – Averaging trading, or lot multiplier.
QuickFire Scalper Pro EA

only opens 1 trade at a time and never increases the size of the trade.
QuickFire Scalper Pro EA

will never use huge stop-loss to get a small take-profit.
So, we decided not to focus on having a high win rate, but just on how much money is generated per month. But without using any questionable practices or resources, just with the simple idea of having a much higher take-profit than stop-loss, so even with a low win rate, we can still get excellent profits without any surprises for the trader.
Strategy:
We used one of our indicators (scalping) on a high time frame (H1), but with an entry trigger based on a M5 time frame, and an early signal from a single period (M1). This allows us to use an H1 time frame (but not with H1 data), to place a relatively small stop-loss and take-profit for this time frame (which are achievable), by having a much larger take-profit than stop-loss, we've managed to make sure that even if the stop-loss is hit several times, the final outcome is always in our favor (and by a wide margin).
Our EA acts like a patient trader, it sticks to its plan and doesn't make any changes. It never opens additional trades, increases the size of trades, or hedges.
With this in mind, let's look at more signals for $100 accounts:
$100 – MEDIUM RISK SIGNAL: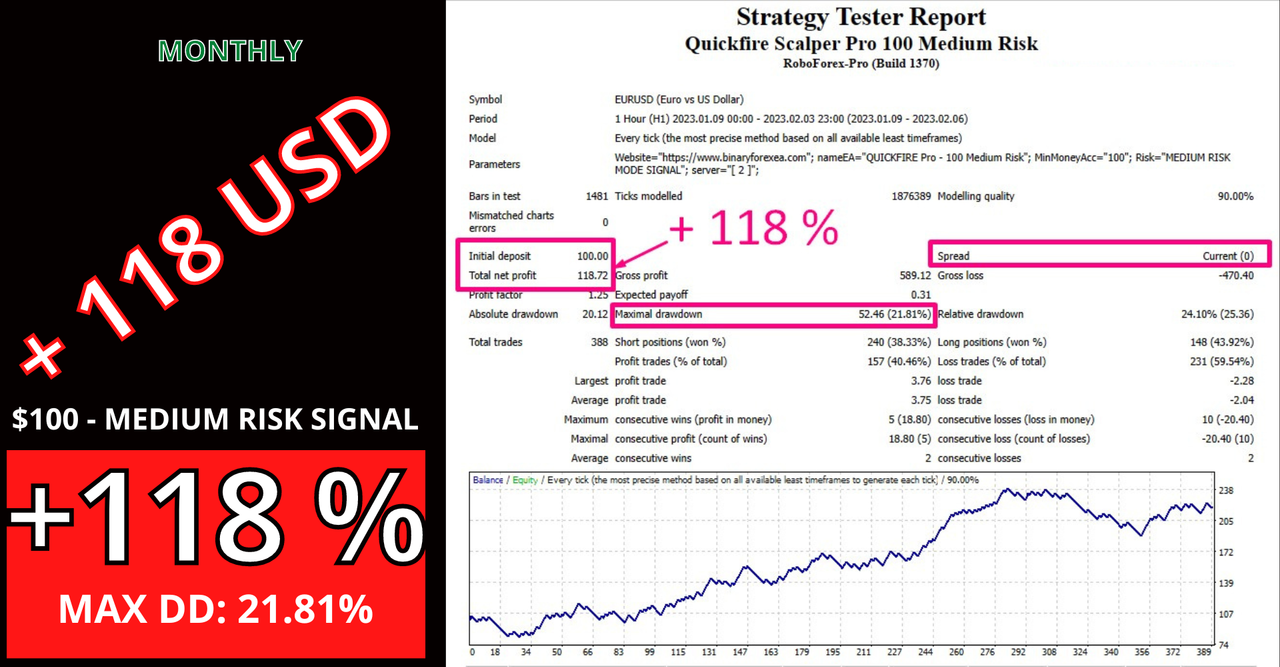 LET´S SEE SOME TRADES OF 100-MEDIUM RISK SIGNAL:

Remember:
If your broker has a high spread (more than 2), the EA will not perform as expected, resulting in lower returns or losses.

Using a VPS is not mandatory, but if you choose not to use one, you will need to keep your computer running. If you decide to use a VPS, keep in mind that you will need to ask your broker for recommendations and assistance with installation, a

VPS located close to your broker's server will help to minimize latency

. Note that we do not provide private VPS installation services.