KINGLE SCALPER EA – Forex Mt4 Expert Advisor
---
You will be able to download the product once the payment is completed (instant)
UPDATE 2023!
Forex Kingle Expert Advisor: Automated Scalper Strategy that trades with the trend on advanced coded technology
Make Continuous Profits !
Kingle Scalper Expert Advisor is currently the best Forex Automated Trading software in the market and is being used by both beginners and pros.

It is 100% automated and once you install it, you don't need to modify anything. It works automatically& seamlessly using its inbuilt pre-designed strategy to help traders WIN more in trading.

This robot is designed for beginners yet expert traders: Most of the inner parameters are hidden from user so that even a beginner will not mess up. Just load the included presets and you don't have to modify anything else. Just pay attention to place the correct pairs.
EURUSD M15 :  99.9% MODELLING QUALITY + 53% NET PROFIT– DD 19%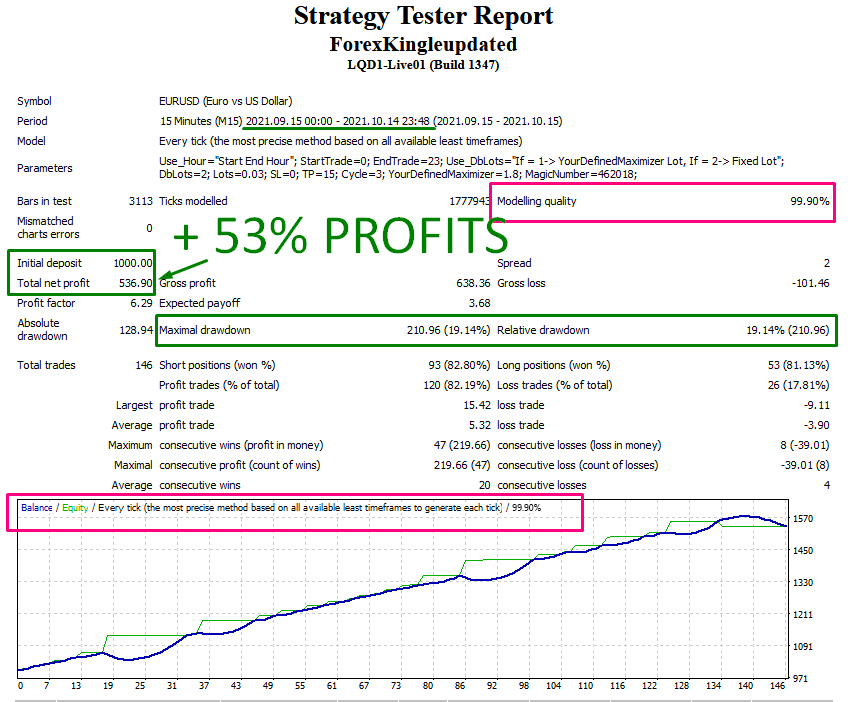 GBPUSD M30 :  99.9% MODELLING QUALITY + 52% NET PROFIT-DD 18%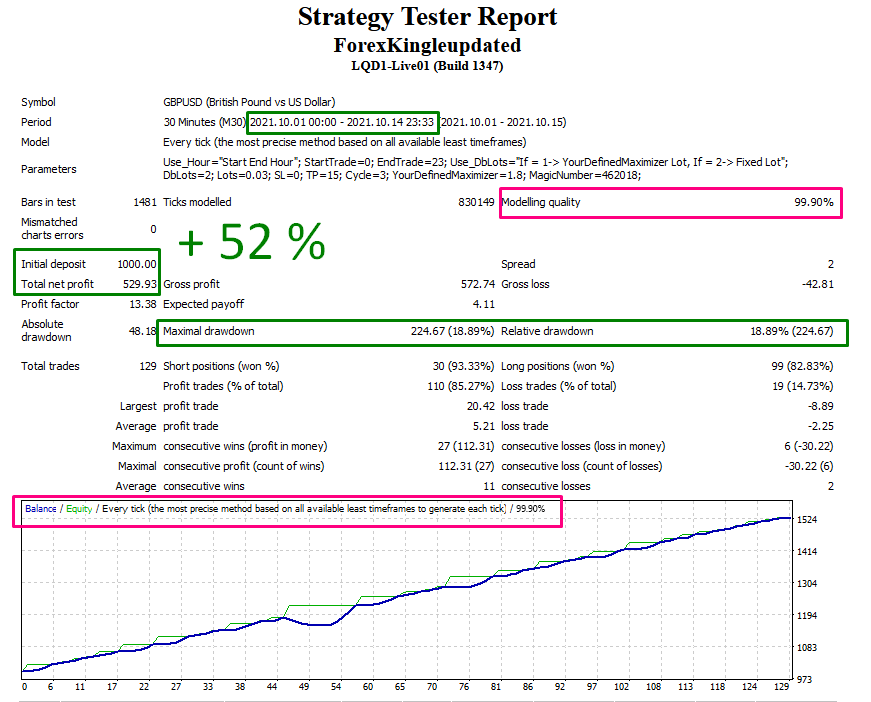 Although our backtests are always reliable (99.90%), it is good to let Eas run on Demo account first, in our case, and given our experience, we have run it on Real account, as we have seen that the potential DD was really low.
During some days we have let the EA run on our live account (LQDFx Real) Lots: 0.01(Spread:2) and this is what happened:




Amazing !!
Practically, the EA has had no DD, really small. For this reason, we really think that the minimum lot should be 0.03.
YOUR PATH TO CONSISTENT GROWTH
1) High Accurate and Profitable Trades.

2) No modifications are required

3) 24 hours unlimited FX trading

4) Monthly Passive Income without any manual efforts with FX Robot.
Configuration Panel:
YOU DON'T NEED TO MAKE COMPLEX CONFIGURATIONS. WE HAVE ALREADY SET UP EVERYTHING FOR YOU! YOU ONLY HAVE TO LOAD ONE OF THE 4  INCLUDED PRESETS.
Recomendations:
Broker: You should have a Scalping broker with 0 Spread or very low Spread, or one that pays per lot traded and has no Spread. If you have a broker and you do not know its Spread, you should find it out beforehand. IF YOUR SPREAD IS HIGH THE EA WILL NOT OPEN TRADES.

VPS: Not Required – But if you want, use a VPS or a hosting server with minimum network latency with respect to the broker's server -It is always good to use the VPS recommended by your broker as they will work well with each other.