JUM STOC EA v2.7 ULTIMATE EA – Forex Mt4 Expert Advisor
---
You will be able to download the product once the payment is completed (instant)
UPDATE 2023!
How this Robot works?
Jum Stoch EA is an automated Forex trading robot that is very popular nowadays. This robot operates on the MetaTrader 4 (MT4) platform. Its operation is basically developed with trend indicators, moving averages and to a greater extent uses stochastic, placing sell limit and buy limit pending orders, looking for trend changes.
It has multiple configurable parameters such as stop loss, take profit, maximum number of operations, trading hours, the option of using fixed lot or martingale, among others.
It is recommended to use it with a minimum balance of $2000 in the M15 or M30 timeframe with the following currency pairs: EURUSD, EURJPY, AUDUSD and USDJPY; with ONE OF OUR 4 PRESETS.
JUM+STOCH is a fully automatic trading forex EA. This forex robot trades on the principle of accumulating a positive balance by opening trades for a short time at the moments of an impulsive market. EA places pending orders at the supposed support/resistance points and then accompanies the deal if it worked. If the transaction does not work, the robot removes the pending order.
EA is part of the EA variant of the JumStoCh+ EA which has given many advantages to traders in many countries

This ea was developed in 2018 and distributed in 2021 and until now

The characteristics of this EA can be seen from the comments/initial orders with the name Jum+Stoch+

Improvements and part of the development of variants of the EA JumStoch+v2.3F by using pending limit orders.

The minimum initial capital is 20000 cents or 200 $ in a cent account.

What is new compared to v2.3F is the addition of trading days, midif take profit with Tp according to the last order Tp and also the calculation of Bep. also the addition of trailing which is automatically active at a critical level as a safety when the level is getting bigger while the distance from the Bep price to take profit is too much so that at a critical level, trailing is activated as a safety, so that closing profit using trailing is safer.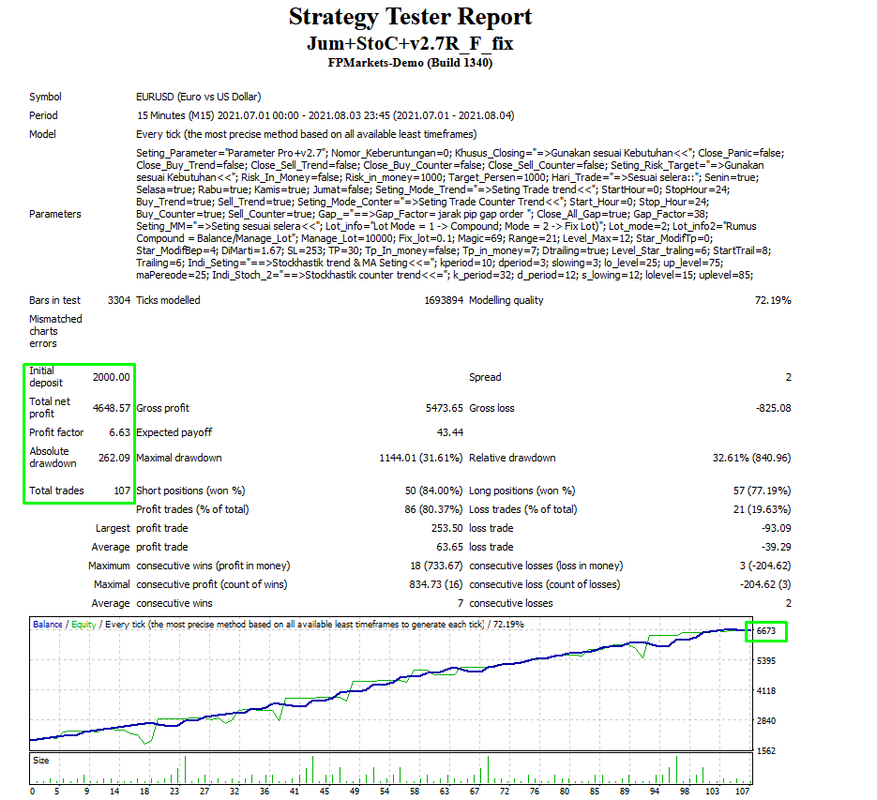 IMPORTANT: 
1.

Before using on a live account, test the EA, on your Demo account first.
2.

Use VPS or hosting server so that your EA never stops running, even if your computer turns

of
3.

For best results, use the leverage of 1:200 and more
4.

At least $2000

minimum

to

be available on the trading account in order to

implement the strategy built into the EA.
5.

Low spreads + low commission + high quality execution are important when choosing a

broker to trade.
YOUR PATH TO CONSISTENT GROWTH
1) High Accurate and Profitable Trades.

2) No modifications are required

3) 24 hours unlimited FX trading

4) Monthly Passive Income without any manual efforts with FX Robot.
Configuration Panel:
NO NEED TO MAKE COMPLEX CONFIGURATIONS, WE HAVE ALREADY FULLY CONFIGURED IT, YOU ONLY HAVE TO LOAD THE EA.
Recomendations:
Broker: You should have a Scalping broker with 0 Spread or very low Spread, or one that pays per lot traded and has no Spread. If you have a broker and you do not know its Spread, you should find it out beforehand. IF YOUR SPREAD IS HIGH THE EA WILL NOT OPEN TRADES.

VPS: Not Required – But if you want, use a VPS or a hosting server with minimum network latency with respect to the broker's server -It is always good to use the VPS recommended by your broker as they will work well with each other.