INCONTROL REBORN EA –  Forex Mt4-Mt5 Expert Advisor
---
You will be able to download the product once the payment is completed (instant)
Re-born With a new mode Accelerator! More than 15 years in the market!!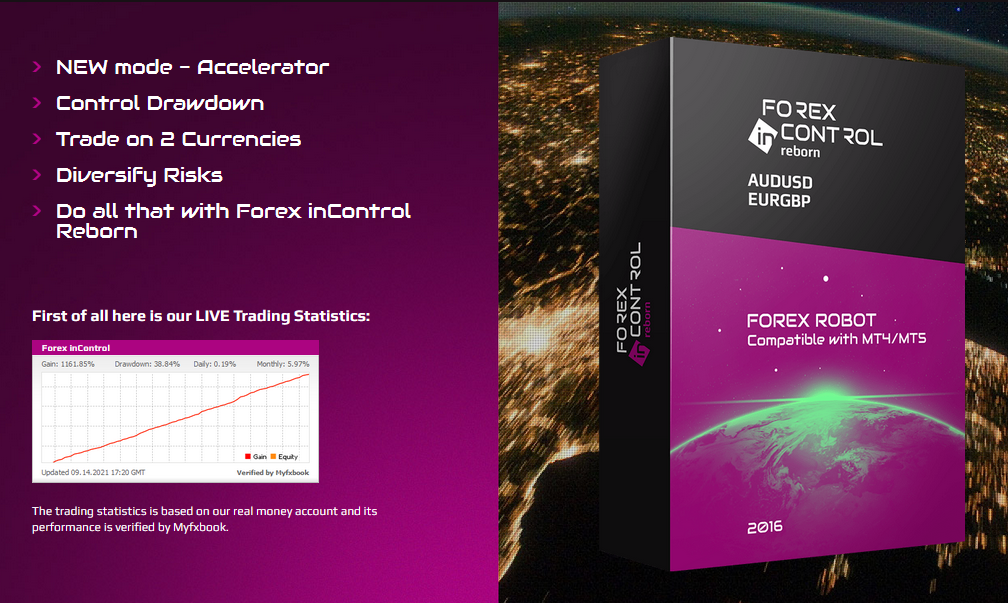 How this Robot works?
Forex inControl Reborn EA is a fully automated forex robot usually being sold for 310 $. Forex inControl is the EA that can work both: as a single system on the account and in a combination with any other EA. It does not open orders all the time, it awaits the best moment to enter the market. That allows trading with several EAs on one account at the same time without getting big drawdowns.
This EA allows to specify a maximal possible drawdown precisely, so that under any circumstances you wouldn't lose more than expected. In the represented EA we applied a technology that automatically sets StopLoss for all orders on such a price, that will not let you lose a dollar more than it is pointed in the settings of the EA.
Please do backtest and test in a demo account first for at least a week. Also, Make yourself familiar and understand how Forex inControl EA works, then only use it in a real account.
Sometimes Forex inControl Reborn doesn't open new orders for a day, and other times, as soon as you place it, it will open an order. So don't worry if the EA doesn't start trading right after the installation. The EA makes calculations and finds the best moment for entering the Market. Sometimes it may take more time. This Ea will not open operations at random, it will only open them when appropriate.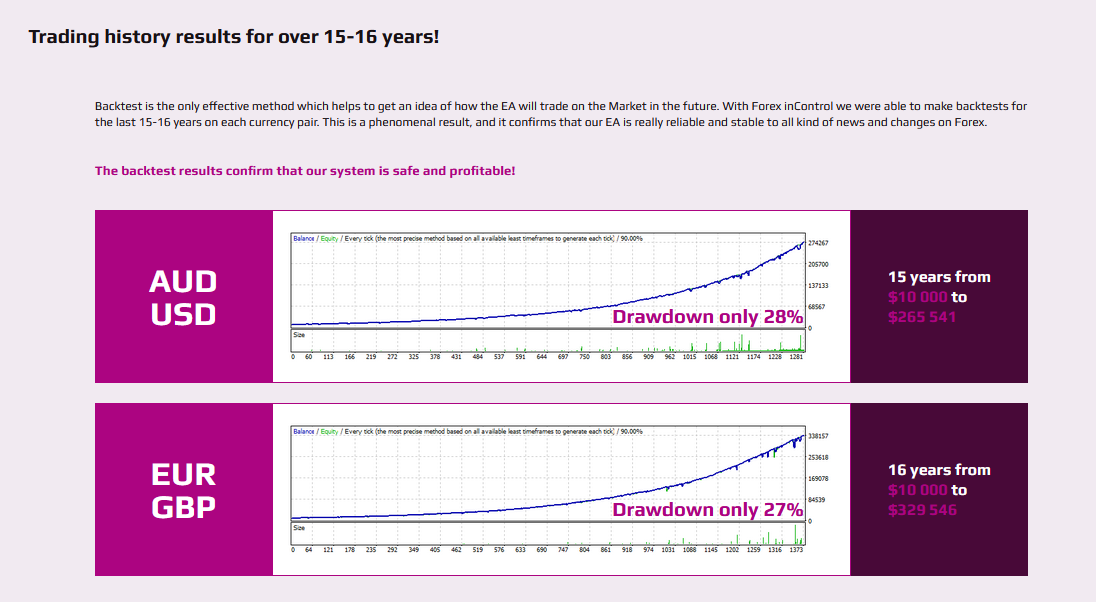 Back test Results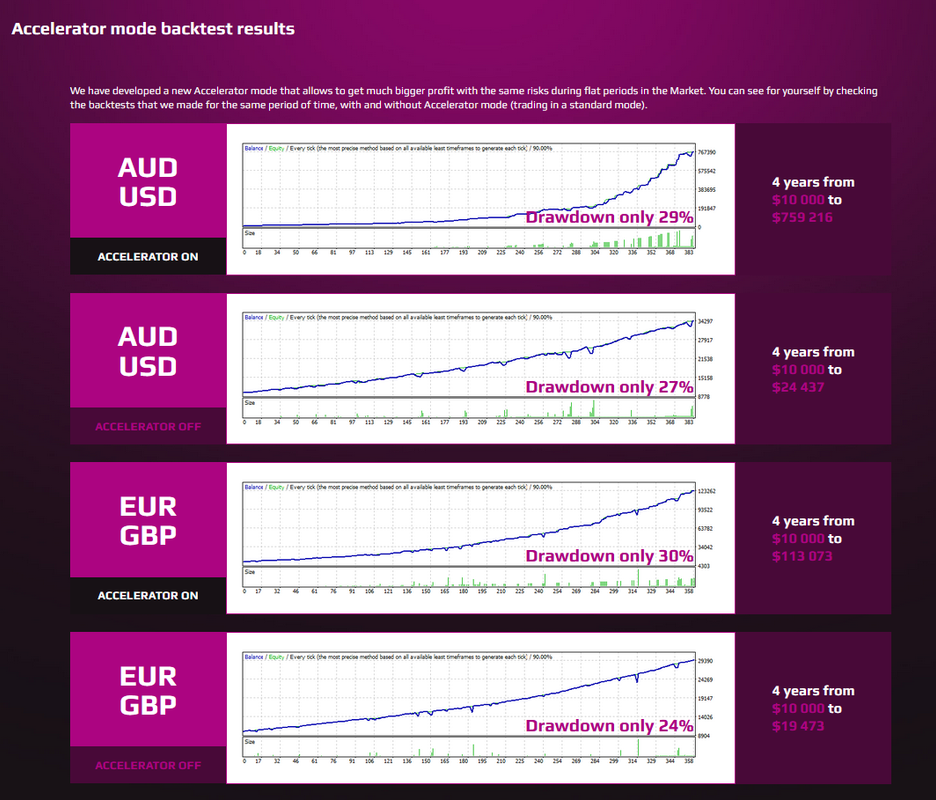 Working on REAL ACCOUNT with REAL MONEY: Verified by MyFxBook

 EA Settings: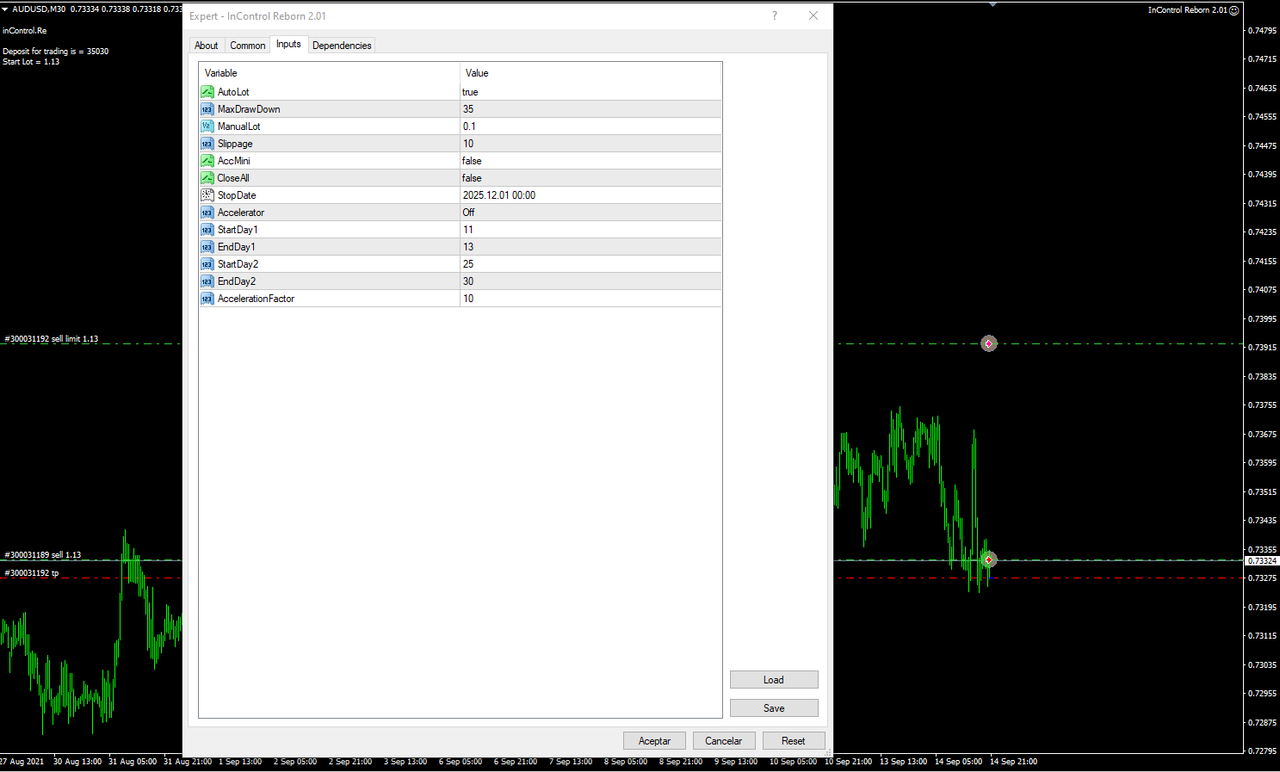 IMPORTANT:
1.

Before using on a live account, test the EA, on your Demo account first.
2.

Use VPS or hosting server so that your EA never stops running, even if your computer turns

of
3.

For best results, use the leverage of 1:200
4.

At least $1500 

minimum

to

be available on the trading account in order to

implement the strategy built into the EA.
5.

Low spreads + low commission + high quality execution are important when choosing a

broker to trade.
Configuration Panel:
NO NEED TO MAKE COMPLEX CONFIGURATIONS, WE HAVE ALREADY FULLY CONFIGURED IT, YOU ONLY HAVE TO CHOOSE THE DESIRED LOT.
Recomendations:
Broker: You should have a Scalping broker with 0 Spread or very low Spread, or one that pays per lot traded and has no Spread. If you have a broker and you do not know its Spread, you should find it out beforehand. IF YOUR SPREAD IS HIGH THE EA WILL NOT OPEN TRADES.

VPS: Not Required – But if you want, use a VPS or a hosting server with minimum network latency with respect to the broker's server -It is always good to use the VPS recommended by your broker as they will work well with each other.