FOREX SIGNAL 1000 PIPS STRIKER – MT4 Signal

---
You will be able to download the product once the payment is completed (instant)
Long-Term Trades + Intraday + Swing Trading +Scalping Indicator

STRATEGY DETAILS:
Preferred Currency pairs: Eur/Usd ,Gbp/Usd,Eur/Jpy
Time frame: 15min Or 1 Hour Chart (Highly Recommended)
Time frame Scalping Mode: 1M – 5M
Recommended balance: +$100 (Per Micro Lots)
Preferred trading session:  London Session + NewYork Session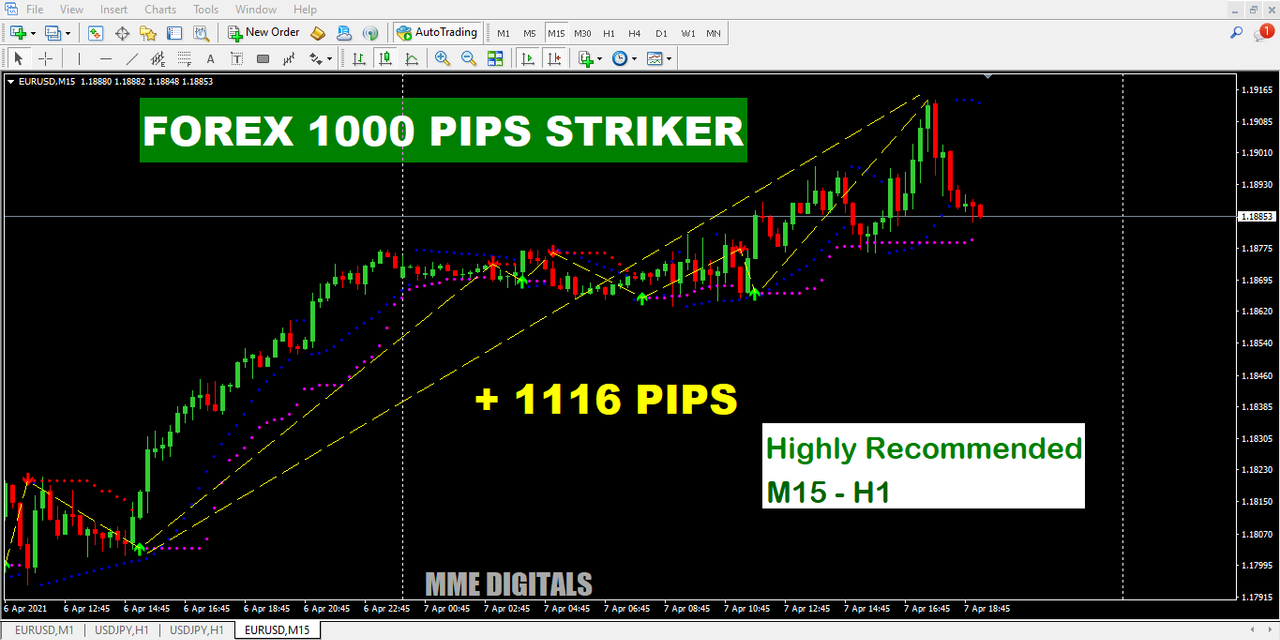 FEATURES AND FURTHER DETAILS:
---
"Forex 1000 Pips Striker" is a complete trading tool designed primarily to trade the FOREX markets successfully and consistently.
The "Forex  1000 Pips Striker" uses a very special algorithm based on custom advanced (no repaint) versions of 3 Forex indicators + a custom price action filter.
You will get an ARROW signal on your chart ONLY if all the indicators and filters are in agreement! The signals (arrows) are never REPAINTED!
Make sure to read all the recommendations and especially "How to use the software (and when) – 3 rules".
We advise that you read and make sure you understand the entire system before putting it into practice. Experiment and gain experience in demo accounts before trading with your own money. If you find that you need further help or have any questions, do not hesitate to contact us
HOW TO USE THE SOFTWARE
Entry Rules & Signals: Time frame: 15M or 1 Hour
1- BUY: When Green Colour Arrow showing Upward Direction with Pop U. p Alert (TP: when the opposite arrow & alert appears)
2-SELL: When Red Colour Arrow showing Downward Direction with Pop Up Alert (TP: when the opposite arrow & alert appears)
3-WHEN: Important: A popup alert is your confirmed signal to enter a trade
FOR SCALPING MODE: Broker recommended: OctaFx -Fusion Zero Account (or any with LowSpread)
Exit And Money Management Set Up –
Stop Loss: 20 Pips Or keep Stoploss at the bottom of Colour Arrow.
Take Profit: 10 Pips Or Take Profit till Another Colour Arrow Apeared, but better lock your Profit in 30-40-50  Pips for safe gain. Then wait for a pull-back and re-enter, repeat this process until you get a new reversal alert.