Evil Twin Scalper EA – ULTRA LOW RISK Forex Mt4 Expert Advisor
---
You will be able to download the product once the payment is completed (instant)
-PRESETS

LAST UPDATE

: 2023.
Evil twin scalper EA is a smart ea that uses the Two lines for Time Frame for four hours and indicators Zigzag +atr +cci two period and rsi+cci from Variable filter to find out sensitivity situation of the market price.
All of the basic algorithms of the adviser have passed multiple tests on historical data over the past 11years, the principle of operation is maximally adapted to the dynamics and volatility of today's market.
The SMART tunnel automatically creates a trend line that market movement reacted at this point.

Zigzag: find the very best and lowest price (support and resistance) and with now EA crate line .

It changes and updates automatically …
Evil twin EA doesn't use Martingale, no hedging, no network
Evil Twin always uses a very small stop loss to protect your money.
We found that Evil twin scalper EA works best on 1H and 4H charts, with ECN low spread broker and a 1: 200 leverage or more is great . VPS (optional) .
If you've got a mini account, you'll start using it for just $ 100 (Spread 01-20). Recommended time frame: H4
You can customize the TF in which the robot operates, according to your preferences, or you can leave the predefined in the .set
This ea features a smart function to manage your RISK.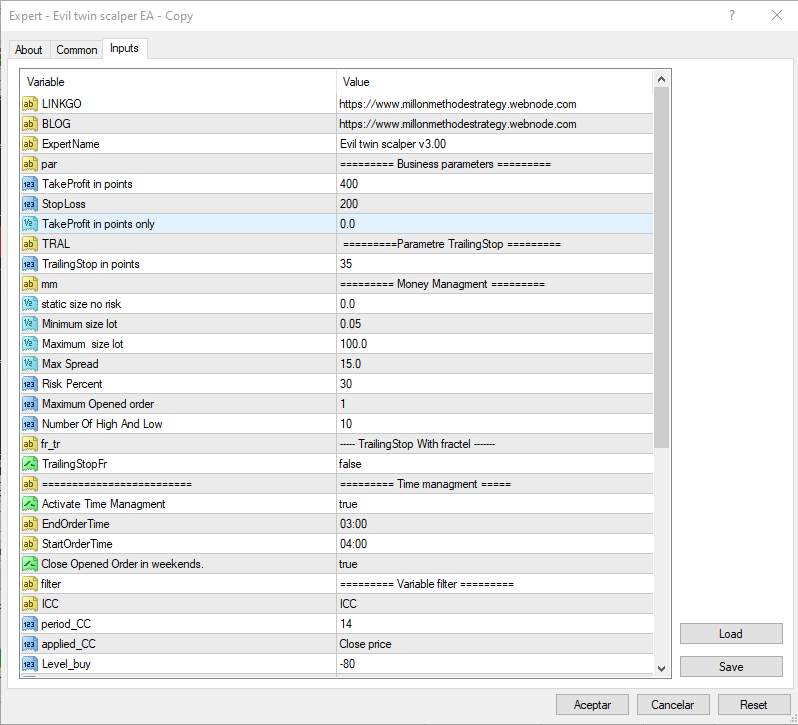 Please take a look at this screenshot of the last month
Absolute Drawdown: 1.49
Profit Factor: 5.20
Long Positions Won: 100%
Short Positions Won: 85.71%
A B S O L U T E L Y   A M A Z I N G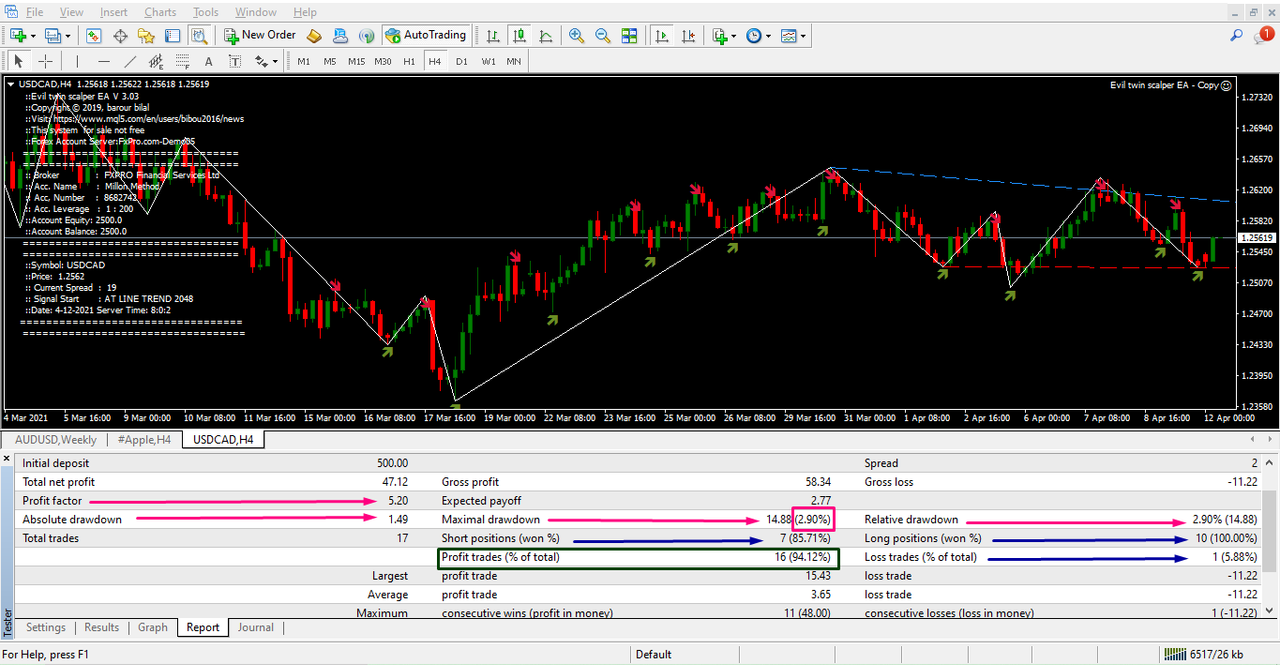 It is important to note that the profit is of a single pair that is what allows automatic testing, you can choose as many pairs (best suggested) as capital you are willing to invest and therefore multiply the profits, it is very convenient to do it with the ULTRALOWRISK.set as it is programmed to have very low risks with 2:1 profit ratio and fast profits.
Features and further details
Business parameters
TakeProfit            =  TakeProfit in points

MaxStopLoss        =  StopLoss

FixTakeProfit       =  TakeProfit in points
Parametre TrailingStop
SlTrail                 =  TrailingStop in points
Money Managment
StaticLot                =           static size no risk

MinLot                   =         Minimum size lot

MaxLot                  =          Maximum  size lot

MaxSpread             =           Max Spread

Risk_Percentage    =      Risk Percent

MaxOpenPosition =         Maximum Opened order

ZigZagNum      =            Number Of High And Low
TrailingStop With fractel
TrailingStopFr   =    false; // TrailingStopFr
Time managment
TimeManagment  =   Activate Time Managment

EndOrderTime

StartOrderTime

WeekenClose        =   Close Opened Order at weekends.
Variable filter
 period_CC=14;

 Level_buy=-80;

 Level_sell=80;

 period_Rsi=14;
ATR Indicator
AtrPeriod       = 14; // ATR Indicator Period
Stochastic Indicator
 StochasticKperiod

 StochasticDperiod

StochasticSlowing
CCI Indicators
input int CCIperiod

RSIperiod

Magic Number
.Set  HIPER ULTRA LOW RISK File Included
THIS IMAGE IS TAKEN WITH THE HIGH RISK PRESET: STILL LOOK AT THE MAX DRAWDOWN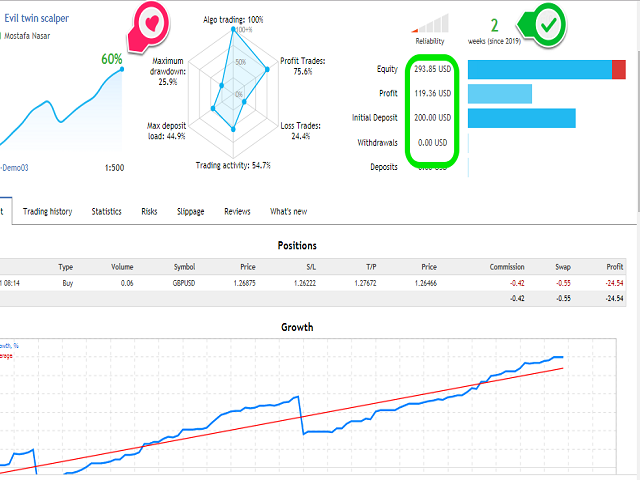 Configuration Panel:
YOU DON'T NEED TO MAKE COMPLEX CONFIGURATIONS. WE HAVE ALREADY SET UP EVERYTHING FOR YOU! YOU ONLY HAVE TO LOAD THE  INCLUDED PRESET.
Recomendations:
Broker: You should have a Scalping broker with 0 Spread or very low Spread, or one that pays per lot traded and has no Spread. If you have a broker and you do not know its Spread, you should find it out beforehand. IF YOUR SPREAD IS HIGH THE EA WILL NOT OPEN TRADES.

VPS: Not Required – But if you want, use a VPS or a hosting server with minimum network latency with respect to the broker's server -It is always good to use the VPS recommended by your broker as they will work well with each other.