TakePoppins Donchian Trend Pro Ultimate EA
---
You will be able to download the product once the payment is completed (instant).
TakePropips Donchian Trend PRO is a powerful and effective tool that automatically detects the direction of the trend and provide you an entry and exit signals. We only use tested strategy that works in the current market and you can expect a high accuracy of 75% – 80% win rate!
This is a tremendously complete EA, we have rarely seen one so complete, especially with such a trader-friendly configuration.
This multi-function indicator includes the Donchian Channel, entry & exit signals, statistical dashboard panel, and a trend-detection scanner. It is designed to provide you trading signals and save you hours analyzing the charts!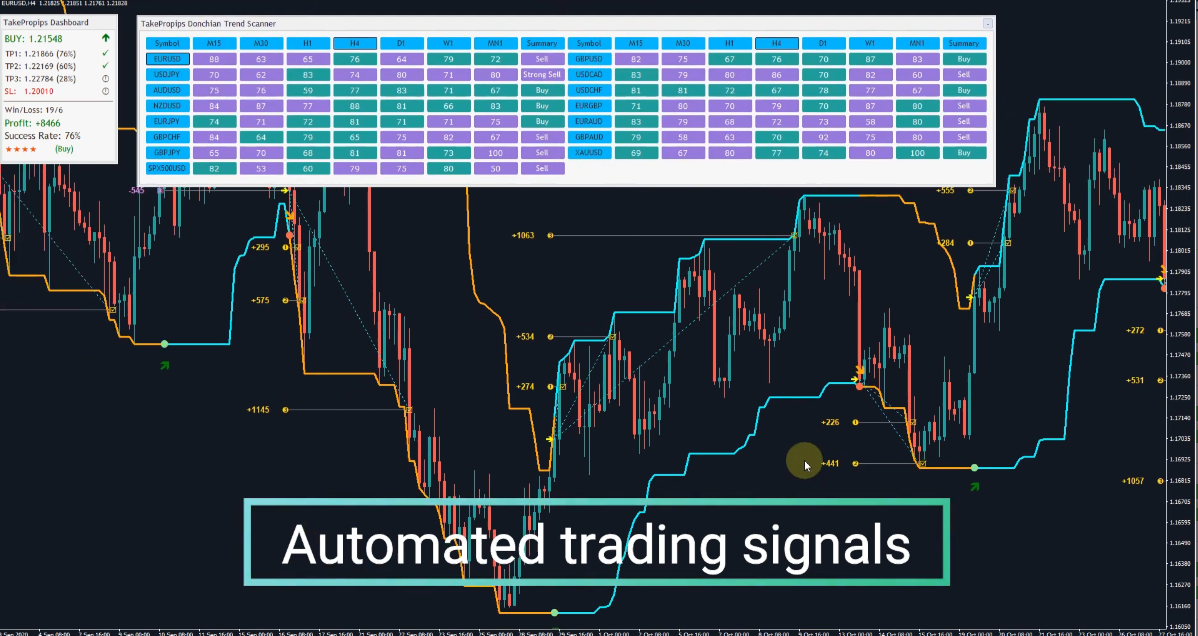 How does it work? (WE INCLUDED A VIDEO WITH THE PURCHASE)

This indicator scans the market for high probability trade setups and provides you with buy and sell signals on any pairs across all timeframes. You can choose any pairs and timeframes to receive signals. It will give you alerts when new signals are identified and provide you with entry price, take profit and stop loss level so you know exactly when to enter and exit the position.
 
You will also see the history results of the signals generated by the indicator on a dashboard panel to see if its profitability. The EA has a -built in scanner- and it´ll also be included in the indicator so you can easily find the trend direction and win rate of each pair and timeframe within the market.
Product Features
Automated entry & exit signals – detects trading opportunities and provides you with take profit & stop loss.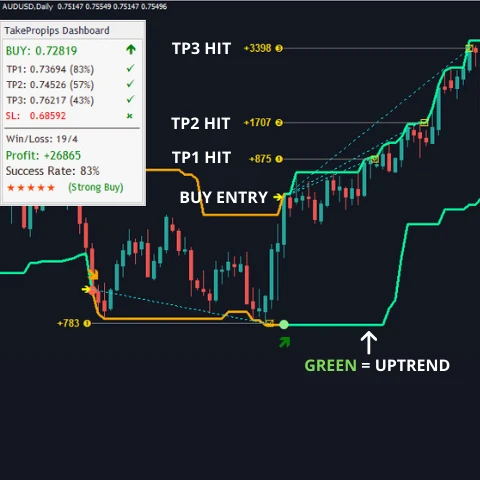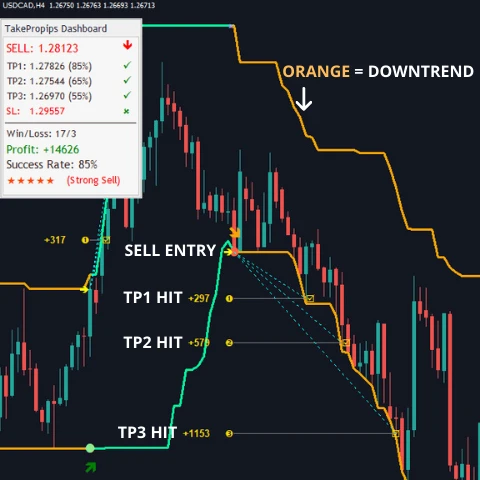 Additionally, Trend Scanner – a multi-symbol and multi-timeframe scanner shows the direction of the trend, success rate, and rating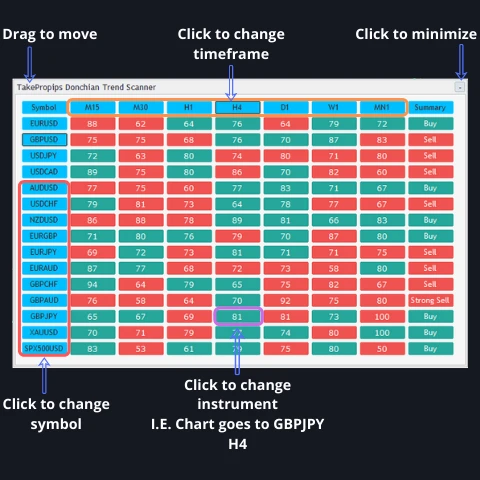 Also a Statistical Dashboard Panel – shows the success rate, entry signal, and total profit/loss of each currency pair so you know exactly the result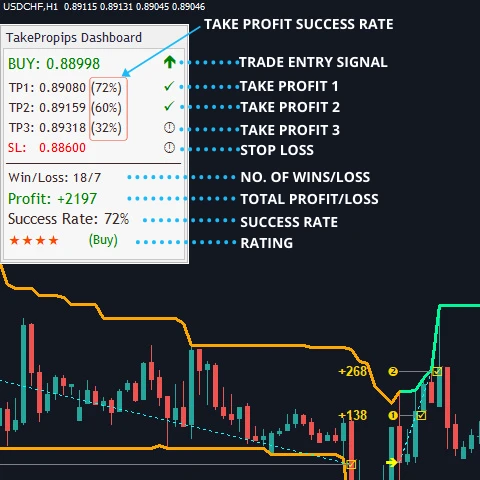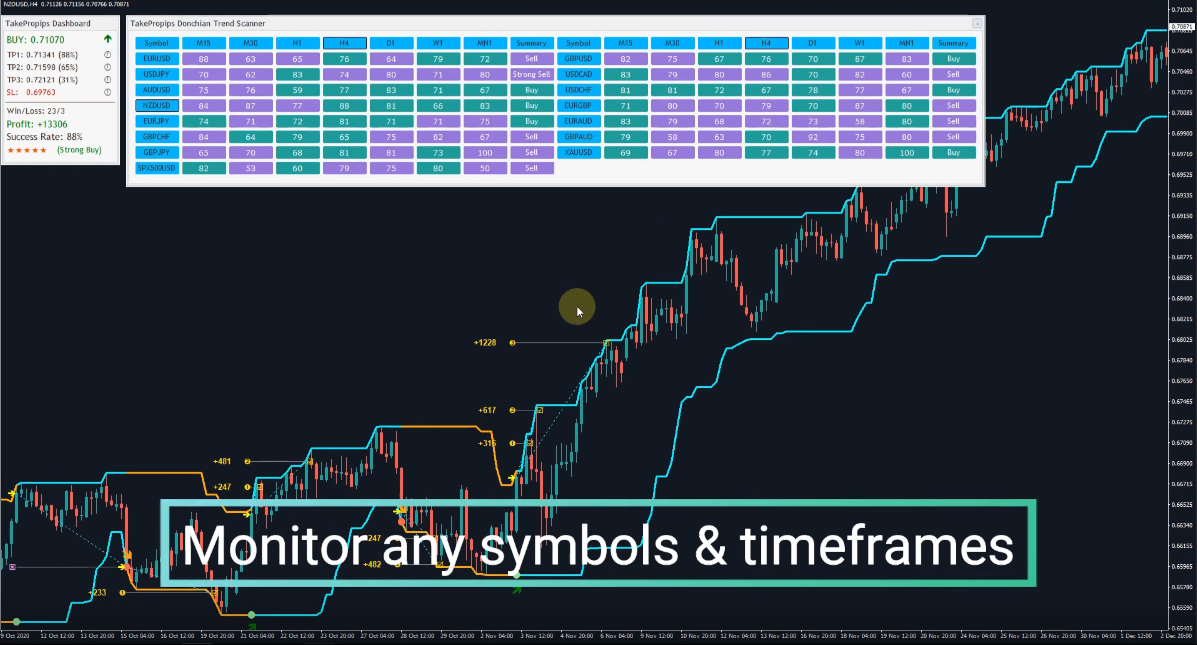 Another key point:
Alerts, Email, and Push notifications – receive notifications on your mobile or desktop when a new buy or sell signal is identified.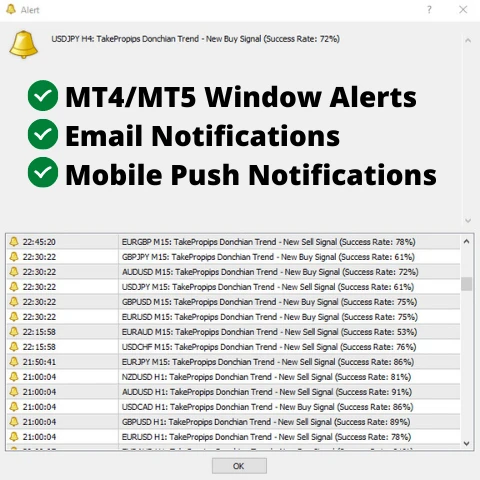 And last but not least

Customizable, non-repainting, no backpaints – you can customize the look and feel of the scanner to increase real estate. The indicator never repaints or backpaints.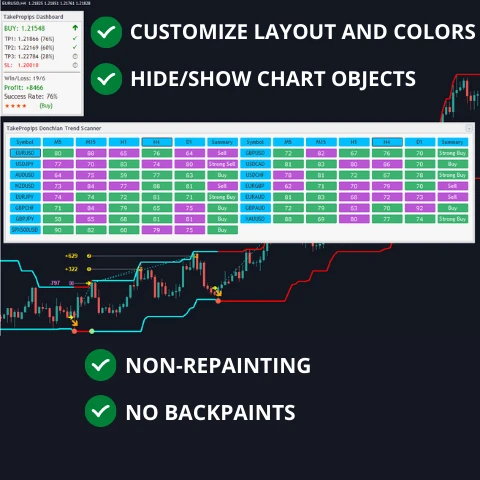 How to setup a trade?
Easy 1-2-3 setup!
1. Trade Analysis
Enter your trade when the indicator alerts you of a new buy or sell signal. For higher chance of success, only enter trades when success rate is 70% or greater.
2. Take Profit
The take profit price is automatically calculated and you will be provided with up to 3 take profit levels (TP1, TP2, and TP3).
Option 1 – Take profit on TP1
Option 2 – Partial Take Profit on TP1 and close remaining positions on TP2 and/or TP3
Option 3 – Take Profit on opposite signal and ride the trend
3. Stop Loss
The EA automatically calculates the SL and provides it to you so that you have 0 doubts.
Option 1 – Set your stop loss at the specified price provided by the indicator
Option 2 – No stop loss. Exit your buy position on a new sell signal or exit your sell position on a new buy signal.
Multi-Timeframe Analysis
To get the best results and generate higher probability of success, you can trade when the higher timeframe and the lower timeframe are in the same trend direction.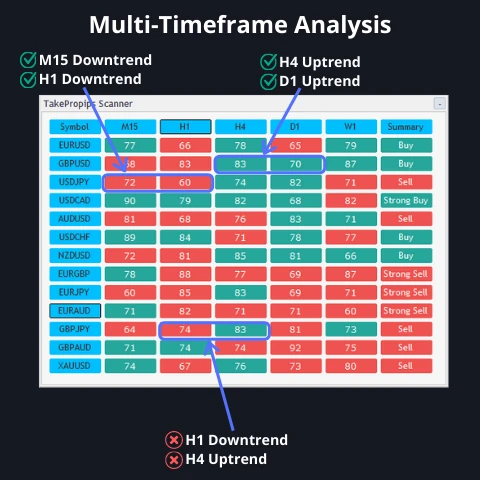 Recommended Multi-Timeframe Pairs:
M5 -> M15
M15 -> H1
H1 -> H4
H4 -> D1
D1 -> W1
The indicator works on all timeframes, forex pairs, crypto, indices and commodities. 
We believe that an H1 timeframe will work well for most traders. Those who feel that their trades may be too long and do not want them to stay open for more than one day, should use the M15 timeframe as a maximum.
VIDEO OF HOW IT WORKS IS INCLUDED